Our next Horseshoe Tour stop is in North Platte, NE on September 24-25. The deadline for entries is Wednesday, September 14th, and it's never too early to get your entry in. The site has 30 horseshoe courts with lighting.
Two 30 shoe grudge games will be played on Friday, September 23rd in North Platte prior to the doubles tournament, deemed the "family feud", and will pit two brothers, Marcus Thomsen verses Joe Thomsen, from Nebraska in the first game, and the second game will pit two sisters, Marlene Ray verses Maxine Griffith from Tennessee. One game only, $100 to the winners. These games will be streaming live on Face Book starting at 5:00 PM.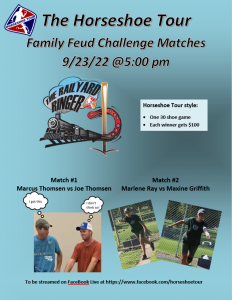 Friday night fun doubles.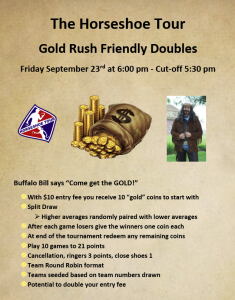 The host hotels for the event are listed below:
Holiday Inn Express Hotel & Suites North Platte
300 Holiday Frontage Road, North Platte, NE 69101
(308) 532-9500 $109 per night Deadline to book: September 7th
Located 3 ½ miles from the horseshoe courts
Best Western Plus North Platte Inn & Suites
3201 South Jeffers Street, North Platte, NE, US, 69101
(308) 534-3120 $119 per night Deadline to book: September 7th
North Platte area hotels:
Address to Cody Park:
1402 N Jeffers St, North Platte, NE 69101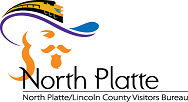 The Rail Yard Ringer reception will be held on Saturday evening at the "Pals Brewing Company" at 7:00. All horseshoe players and family are invited to attend.
Pals Brewing Company
palsbrewingcompany.com
4520 S Buffalo Bill Ave, North Platte, NE 69101